OX40 Immune Checkpoint Molecule for Drug Development
introduction to OX40
Tumor necrosis factor receptor superfamily member 4 (OX40, CD134), a type 1 transmembrane glycoprotein, is predominantly expressed by T cells (regulatory T phenotypes and effector T cells). The OX40 and its ligand OX40L (CD134L, CD252) could be expressed by different cells, including mast cells, endothelial cells, activated natural killer (NK) cells, dendritic cells (DCs), B cells, microglial cells, activated T cells, and Foxp3+ regulatory T cells.
OX40 and OX40L Interaction
OX40L could initiate OX40 signals in activated T cells. OX40L on T cells provides signals via T cells' interactions and upregulates the anti-apoptotic protein on T cells to enhance T cell survival and cytokine production and induce the CD4 memory T cell expansion. The co-stimulation in B cells through the OX40 and OX40L pathway contributed to CD4 cell generation, survival, and T helper 2 (Th2) development. Besides, OX40/OX40L could promote NK cell activation, cytokine production, and cytotoxicity and enhance targeted cell lysis.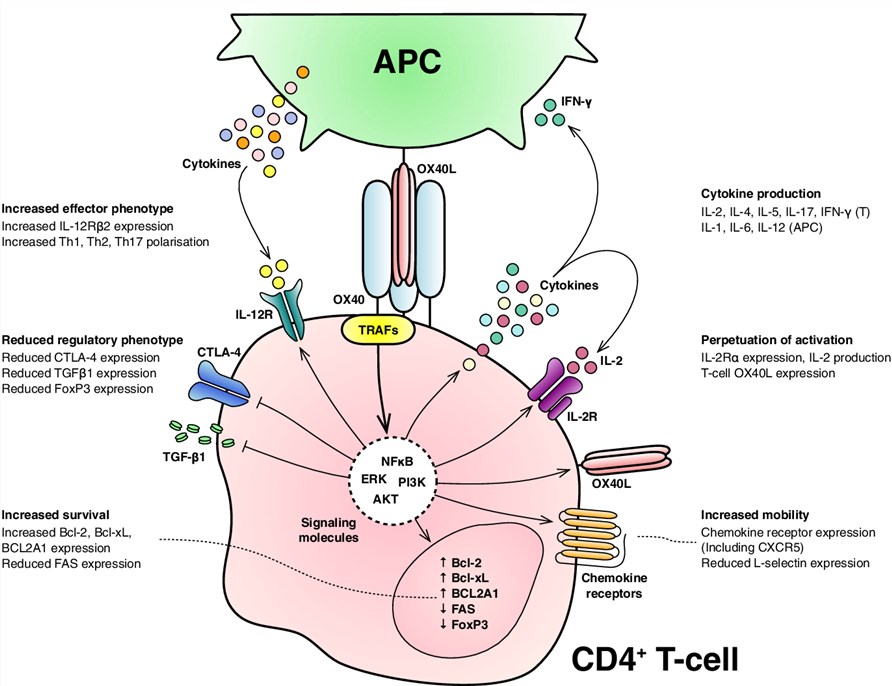 Fig.1 OX40 and OX40L interaction model. (Webb, 2016)
Development of Drugs Targeting OX40
OX40 is expressed on the tumor-infiltrating lymphocytes (TIL) in many cancers such as head and neck squamous cell carcinoma, gastric cancer, ovarian cancer, breast cancer, cutaneous squamous cell carcinoma, and colorectal cancer. Given the biological rationale to use co-stimulatory receptors as a targeted therapy for enhancing the immune response against tumors and based on in vitro results, many drugs that stimulate OX40 signaling have been developed. OX40 signaling can be triggered by OX40-specific agonistic antibodies, OX40L-Fc fusion proteins, transfection of DC with OX40L mRNA, and tumor cells engineered to express OX40L on the surface.
Correlation of OX40/OX40L and Other Immune Checkpoints
Studies have suggested that some diseases were not sensitive to antibody therapy alone. Therefore, it was necessary to study the relationship between checkpoints to work out more effective treatment. For instance, studies revealed that combining agonist anti-OX40 and antagonist anti-CTLA-4 further enhanced CD4 and CD8 T cells responses to antigen, indicating that they had synergistic effects in improving tumor regression. Besides, OX40 agonist and PD-1 blockade also had a synergistic impact on disease treatment. Furthermore, the combination of OX40 agonist and 4-1BB agonist-induced profound expansion of CD8 T cells.
Services at Creative Biolabs
Due to the important role OX40 plays in the process of immunity, many preclinical/clinical trials are focusing on OX40 to find out whether it may have active effects on cancer treatment. Creative Biolabs offers a wide range of immune checkpoint research services for global clients. Our featured services are:
For more detailed information, please feel free to contact us.
Reference
Webb, G. J.; et al. OX40, OX40L and autoimmunity: a comprehensive review. Clinical reviews in allergy & immunology. 2016, 50(3): 312-332.
All listed customized services & products are for research use only, not intended for pharmaceutical, diagnostic, therapeutic, or any in vivo human use.