OX40 and OX40L Pathway
Introduction to OX40 and OX40L Pathway
OX40, also known as CD134 or TNFRSF4, is a member of the NGFR/TNFR superfamily with costimulatory functions. As a secondary co-stimulatory immune checkpoint molecule, OX40 is always expressed on activated CD4, activated CD8 T cells, NK cells, and neutrophils; its expression is dependent on the full activation of the T cell. OX40L, also known as CD252 or TNFSF4, belongs to the TNF superfamily. OX40L can be induced on a series of antigen-presenting cells (APCs), including macrophages, dendritic cells, and B cells.
In activated T cells, OX40L could initiate OX40 signals and upregulate the anti-apoptotic protein to induce the CD4 memory T cell expansion and enhance T cell survival as well as cytokine production. In addition, the OX40/OX40L pathway also promotes NK cell activation, cytokine production, and cytotoxicity and enhances targeted cell lysis.
Research and Drugs for OX40 and OX40L Pathway
Some studies have shown that the OX40 and OX40L pathway induces the expansion and proliferation of T cells and decreases the immunosuppression of regulatory T (Treg) cells, which results in improved immune responses. The clinical trials showed that the OX40 and OX40L pathway plays an important role in the development of multiple inflammatory, autoimmune diseases, and various tumors. The agonist anti-OX40 increased both humoral and cellular immunity in cancer treatment, while the anti-OX40 antibody has been discovered for cancer treatment.
Immunotherapy has shown promising results in cancer treatment. However, some diseases were not sensitive to the single pathway. So, it is necessary to study the correlation of the OX40 and OX40L pathway with other immune checkpoints. For example, combining antagonist anti-CTLA-4 and agonist anti-OX40 presents synergistic effects in improving tumor regression. Combining OX40 agonist and 4-1BB agonist-induced profound expansion of CD8+ T cell. In conclusion, the combination therapy presents enhanced cancer inhibition by producing more enhanced signals.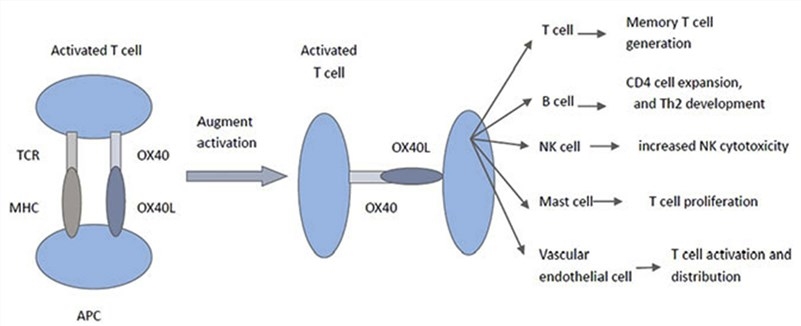 Fig.1 Signaling pathways after OX40 stimulation. (Webb, 2016)
Services at Creative Biolabs
Creative Biolabs is a leading service provider that focuses on immune checkpoint drug discovery. Based on our extensive experience on OX40 and OX40L pathway, now we can provide a series of services for our clients all over the world, including but not limited to:
If you are interested in our services, please do not hesitate to contact us for more detailed information.
References
Deng, J.; et al. OX40 (CD134) and OX40 ligand, important immune checkpoints in cancer. OncoTargets and therapy. 2019, 12: 7347.
Webb, G.; et al. OX40, OX40L and autoimmunity: a comprehensive review. Clinical reviews in allergy & immunology. 2016, 50(3): 312-332.
All listed customized services & products are for research use only, not intended for pharmaceutical, diagnostic, therapeutic, or any in vivo human use.