LIGHT and HVEM Pathway
Overview of LIGHT and HVEM Pathway
HVEM mRNA and surface protein are constitutively expressed in freshly isolated peripheral blood T and B lymphocytes, monocytes, and cultures of immature dendritic cells. Cells that express LIGHT include activated lymphocytes, natural killer (NK) cells, and immature dendritic cells. The majority of LIGHT signals likely originate from ligands present on the surface of activated lymphocytes or immature dendritic cells and are transduced to cells bearing HVEM or the LTβR. HVEM expression is mainly restricted to lymphocytes, while the LTβR is expressed primarily on cells of stromal origin. The signaling results by either molecule can be context-specific, producing a different effect depending upon the cell type displaying the receptor. HVEM and LTβR contain cytoplasmic domains with short peptidyl motifs PXQT and IPEEGD that engage TNF receptor-associated factor (TRAF) adaptors upon ligand-induced receptor aggregation.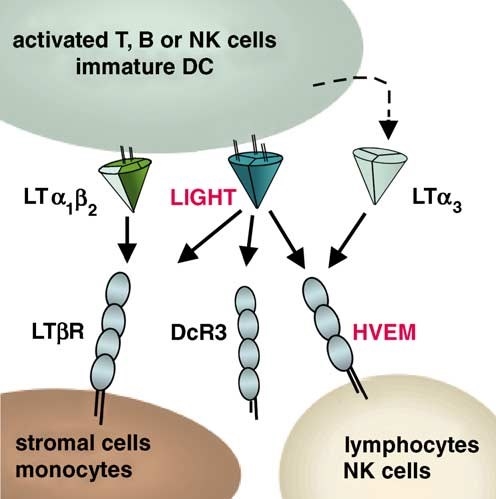 Fig.1 Schematic representation of LIGHT-binding receptors of the immediate TNF superfamily. (Granger, 2003)
Research on LIGHT-HVEM in Immunobiology
LIGHT-HVEM co-stimulation of T cells

In initial studies, the addition of anti-HVEM antibodies to CD3/CD28 stimulated T cells to reduce T cell proliferation and cytokine production, implying that HVEM signaling may be involved in T cell activation. Further evidence was provided by mixed lymphocyte reactions (MLRs), where the introduction to soluble LIGHT enhanced T cell proliferation. Another group observed the same effect, which was reduced by the introduction to soluble HVEM Fc decoy receptor. To directly demonstrate that LIGHT is a T cell co-stimulatory molecule, recombinant human LIGHT was added to T cells in the presence of sub-optimal levels of agonistic anti-CD3 monoclonal antibodies, which resulted in enhanced proliferation in vitro. The addition of soluble LTβR Fc blocked this effect. Other studies have since confirmed that LIGHT HVEM signaling plays a costimulatory role in TCR-mediated T cell proliferation.

Thymic selection

The abrogation of LIGHT signaling in vitro and in vivo with LTβR-Fc and HVEM-Fc fusion proteins decreased antigen-induced negative selection of thymocytes in mouse model systems. In accordance with the previous data, a decrease in CD4/CD8 double-positive cells was observed in the thymus of LIGHT transgenic mice due to increased cell death. Previous studies have supported a view of LIGHT being involved in the modulation of T cell development.

LIGHT-HVEM signaling enhances cytotoxic T cell (CTL)-mediated tumor immunity

The role of LIGHT signaling in anti-tumor immunity has been of interest since the anti-tumor effects of LIGHT transduction were observed in a syngeneic tumor model. Although recombinant soluble LIGHT can induce apoptotic death of tumor cell lines in vitro, the anti-tumor effects observed in vivo were mediated by infiltration of neutrophils and not by LIGHT-induced apoptosis. More recent findings have indicated that LIGHT expression within a tumor nodule, by LIGHT encoding plasmid DNA inoculation, enhanced CTL-mediated anti-tumor immunity by increasing the antigenicity of the tumor. Moreover, this treatment established long-term tumor-specific immunity in these mice. These effects were abolished upon CD8+ T cell depletion and accompanied by an increased tumor-specific CTL response, indicating a T cell-dependent immune response involving LIGHT and HVEM signaling. The authors emphasized that ectopic expression of LIGHT may hold promise for enhancing anti-tumor immunity by inducing a potent anti-tumor CTL response.

LIGHT-HVEM signaling mediates allograft rejection

Inhibition of LIGHT-HVEM signaling in the allograft rejection model revealed that allogeneic mixed lymphocyte cultures were reduced by blockade of HVEM signaling. LIGHT co-stimulation was necessary for effective DC-induced allogeneic T cell responses.
Services at Creative Biolabs
As an industry-leading immune checkpoint targeted drug development service provider, Creative Biolabs has an advanced technology platform and Ph.D. level expert team. With professional expertise and rich experience, we are capable of providing a series of quality-assured customer services for the LIGHT and HVEM pathway, including but not limited to:
If you are interested in any of our services, please do not hesitate to contact us for more information.
Reference
Granger, S. W.; Rickert, S. LIGHT-HVEM signaling and the regulation of T cell-mediated immunity. Cytokine Growth Factor Rev. 2003, 14(3-4): 289-96.
All listed customized services & products are for research use only, not intended for pharmaceutical, diagnostic, therapeutic, or any in vivo human use.