B7-H4 Pathway
Overview About B7-H4
As a costimulating member of the B7 family, B7-H4 (B7x, B7s1, Dd-0110, VTCN1) is identified as a membrane-anchored protein with extracellular immunoglobulin-like domains, which is important in the binding of the ligands. B7-H4 is widely expressed on various cell types, such as antigen-presenting cells (APC), T cells, and tumor cells. B7-h4 gene encodes a heavily glycosylated, glycosylphosphatidylinositol (GPI)-linked protein and plays a profound inhibitory effect on cytokine growth secretion and development of cytotoxicity of T cells.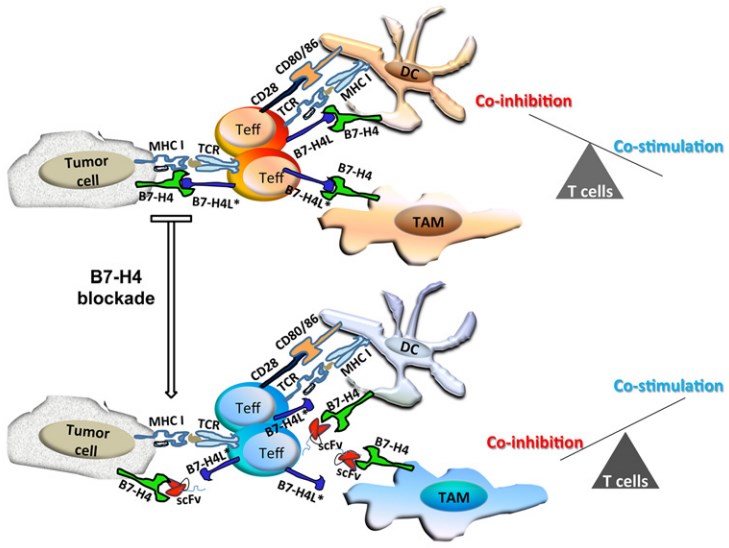 Fig.1 Blocking B7-H4 in the tumor microenvironment with specific antibodies. (Dangaj, 2013)
B7-H4 Expression and Cancer
Recent studies have demonstrated that B7-H4 protein was overexpressed in various cancer cells and tissues, correlating with various pathological and clinical characteristics. The expression level of B7-H4 protein is related to cancer types, cancer stage, the numbers of Tregs, and patient survival. More than 90% of endometrial and breast cancers express B7-H4 protein. Besides, B7-H4 protein is also widely expressed in melanoma, renal cell carcinoma, colorectal, pancreatic, and prostate cancer, lung cancer, ovarian cancer, breast cancer, gastric cancer, and liver cancer.
B7-H4 and Diseases
Some studies have shown that the expression of B7-H4 is related to the primary factors of tumors. A study on the effect of B7-h4 gene polymorphism on the occurrence of breast cancer in the Chinese population finds that some B7-h4 gene polymorphisms are related to the risk of breast cancer and other cancer parameters, such as tumor size, progesterone, estrogen receptor-positive, or lymph node metastasis.
The level of soluble B7-H4 varies with different subtypes of ovarian cancer and increases in patients with advanced ovarian cancer. Its presence in serum is also a negative prognostic indicator for various diseases, including glioma, renal cell carcinoma, type 1 diabetes, and rheumatoid arthritis.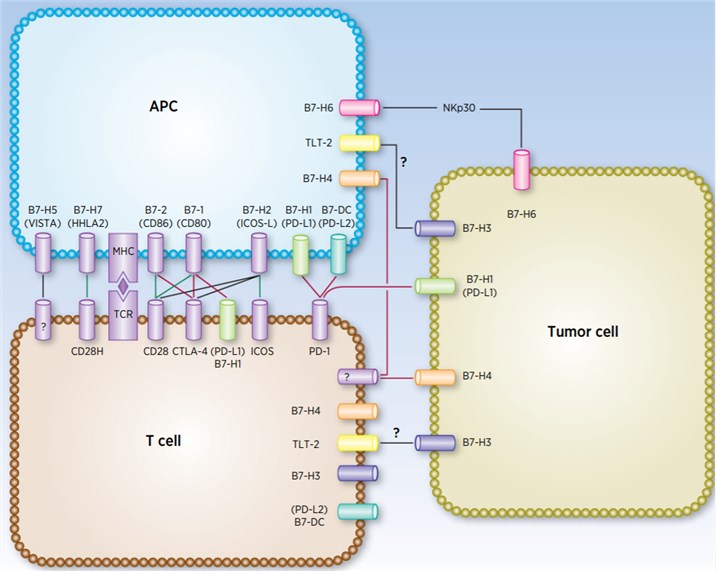 Fig.2 Expression pattern of B7 family members and their co-receptors. (Macgregor, 2017)
B7-H4 for Immunotherapy
The up-regulation of B7-H4 in the progress of disease and its retention in metastasis makes it an attractive target for the treatment of advanced refractory malignant tumors. Researchers are making efforts to develop antibodies to block B7-H4 mediated T cell inhibition.
A study supports the inhibition of B7-H4 in tumor immunity. Compared with the control group, B7-h4 knockout mice have fewer pulmonary metastasis nodes after intravenous infusion of breast cancer cells. The knockout mice also have a high survival rate and have resistance to tumor re-excitation and the characteristics of immune infiltration to improve the anti-tumor responses.
The results show that the monoclonal antibody, which blocks the interaction between B7-H4 and its receptor, can significantly inhibit the growth of the primary tumor, reduce metastasis nodule, and prolong the survival period.
Services at Creative Biolabs
Based on our advanced technology and abundant experience, Creative Biolabs provides the following services for worldwide customers to promote their research in developing immune checkpoint drugs. For any questions, please feel free to contact us for more information.
References
Dangaj, D.; Scholler, N. Blocking the B7-H4 pathway with novel recombinant antibodies enhances T cell-mediated antitumor responses. Oncoimmunology. 2013, 2(8).
Macgregor, H. L.; Ohashi, P. S. Molecular Pathways: Evaluating the Potential for B7-H4 as an Immunoregulatory Target. Clinical Cancer Research. 2017.
All listed customized services & products are for research use only, not intended for pharmaceutical, diagnostic, therapeutic, or any in vivo human use.