Genetic Biomarker Development for Immune Checkpoint Inhibitor (ICI)
Creative Biolabs is always dedicated to assisting our clients with the most satisfactory immune checkpoint inhibitor (ICI) biomarker-related services. As germline genetic host factors have been served as predictive biomarkers, the development of genetic biomarkers may present a more personalized prediction of ICI outcomes incorporated with emerging multifactorial tools.
introduction to Germline Genetic Factors
Immune checkpoint inhibition (ICI) treatment presents improved clinical outcomes in melanoma and other solid tumors. However, the durability of treatment benefit, heterogeneity of ICI efficacy, and severe immune-related adverse events (irAEs) always result in disadvantages and constraints. In this case, the development of reliable and personalized biomarkers is efficient in predicting the least toxic outcomes and most benefits. Recently, growing interest has been concentrated on germline genetic factors to predict ICI efficacy, toxicity, and survival. Some studies have shown that host immune homeostasis is critical in ICI success determination, and germline genetic components are emerging determinants of host immune homeostasis. Till now, hundreds of genetic risk loci have been identified regarding autoimmune and inflammatory diseases.
Features and Development of Genetic Biomarkers
The genetic biomarker is clinically attractive for two major reasons: (1) highly polymorphism of germline variation to increase the potential applicability in clinical practice; and (2) simple and convenient way to obtain markers from a simple blood test. For the discovery of genetic biomarker determinants of ICI, Creative Biolabs offers the most comprehensive platform by combining Whole-exome sequencing (WXS), Whole-genome sequencing (WGS), and Genome-wide association studies (GWASs). The genome-wide analysis can further refine and prioritize genomic loci for targeted validation in patients. The development of genetic biomarkers will be maximizing clinical benefits while minimizing toxicities for patients.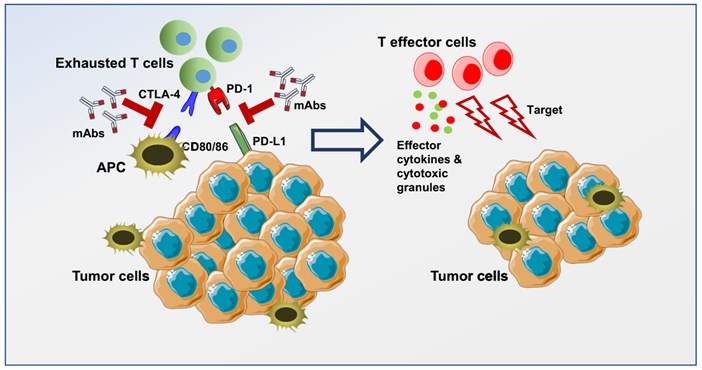 Fig.1 Immune checkpoint blockade for T-cell activation. (Darvin, 2018)
Features of Our Services
Extensive experience and advanced biotechnologies
Fully customizable experimental design to expand beyond standard procedure
Competitive price with the best quality
Personalized experimental design to ensure the most relevant data is obtained
Equipped with world-leading technology platforms and professional, scientific staff, Creative Biolabs has the capability to enable you to free up your time for core work and projects. We would try our best to provide a customized proposal to meet your project requirements in the quality, timeline, and budget. If you are interested in our services, please do not hesitate to contact us for more details.
References
Darvin, P.; et al. Immune checkpoint inhibitors: recent progress and potential biomarkers. Experimental & molecular medicine. 2018, 50(12): 1-11.
Chat, V.; et al. Germline genetic host factors as predictive biomarkers in immuno-oncology. Immuno-Oncology Technology. 2019, 2: 14-21.
All listed customized services & products are for research use only, not intended for pharmaceutical, diagnostic, therapeutic, or any in vivo human use.