Functional Reporter Gene Assay
Creative Biolabs is a leading global CRO company that focuses on immune checkpoint drug development. With our extensive experience and advanced platform, we have won a good reputation among our worldwide customers for accomplishing numerous challenging projects in this field. Equipped with deep knowledge in drug screening, characterization, stability, and potency studies, we can offer high-quality immune checkpoint analysis solutions for our worldwide clients.
Introduction to Immune Checkpoint
Nowadays, numerous studies have demonstrated that immune checkpoints are essential to immune responses in the human body. They can help remove pathogens, maintain immune homeostasis, as well as promote tumor regression. Therefore, a group of new drug discovery targeting various immune checkpoint molecules, including but not limited to PD-1, PD-L1, and CTLA-4, have been widely studied. Meanwhile, characterization of the bioactivity of candidate drugs has become a critical part of different types of immune checkpoint targeted drug development and quality control. For instance, the common methods for measuring the efficacy of immune checkpoint-based antibody drugs include functional assays and neutralization assays. Among them, a series of functional reporter gene assays, such as antibody-dependent cellular cytotoxicity (ADCC) reporter cell-based assay, have been considered as a convenient and powerful way of evaluating the ability of antibodies to elicit ADCC in vitro.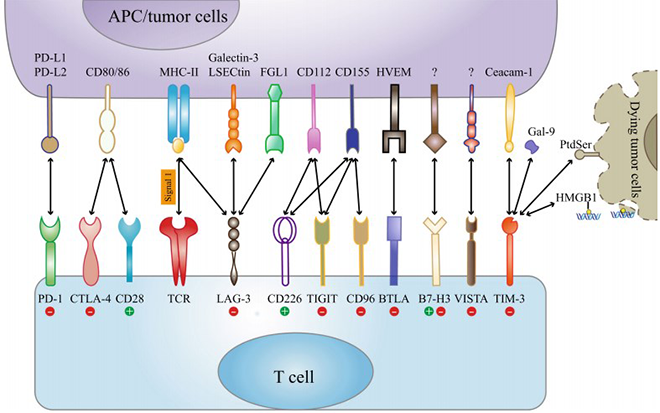 Fig.1 Current and emerging immune checkpoint receptors and their respective ligands. (Qin, 2019)
Functional Reporter Gene Assay at Creative Biolabs
Currently, Creative Biolabs has taken the time to develop the most suitable immune checkpoint binding and interaction assays to provide robustly and routinely performed immune checkpoint characterization platform methodologies using cell-based or reporter gene formats. Up to now, we have successfully designed and tested a large number of reporter gene functional cell lines for various immune checkpoints. In general, our functional reporter gene assays are a rapid, accurate, sensitive detection system based on certain bioluminescent reporters, such as luciferase. This system is designed based on the interaction of immune checkpoint receptors and their ligands. This interaction of these ligands and receptors can trigger the activation of signaling pathways, thus binding with the response element (RE) and inducing the expression of reporter gene luciferase. The bioluminescence signal will be collected and analyzed to reflect the efficacy of candidate drugs.
Also, recent studies have revealed that ADCC has also been regarded as an important mechanism of action (MOA) of antibody drugs. As a world-leading service provider in immune checkpoints, we have generated ADCC reporter cell-based assays for characterizing immune-modulating antibodies. A wide variety of effector populations, like total peripheral blood mononuclear cells (PBMCs) and natural killer (NK) cells, will be harvested for further detection from different genotyped donors. Moreover, we also provide a broad spectrum of surrogate ADCC receptor assay solutions to validate common targets by using engineered cell lines stably expressing the FcγRIIIa receptor. For example, we have reported the development of an ADCC cell-based assay using human FcγRIIa. The results have illustrated that our FcγRIIIa receptor reporter assay is an attractive tool for characterizing therapeutic antibodies and their variants.
Creative Biolabs has accumulated extensive immune checkpoint research experience from the accomplishment of different projects, during which we have received a lot of recognition and praise from our clients. We are very proud of providing high-quality, omnidirectional functional reporter gene assays to our valued clients to remove the difficulties of your projects. For more detailed information, please feel free to contact us or directly sent us an inquiry.
Reference
Qin, S.; et al. Novel immune checkpoint targets: moving beyond PD-1 and CTLA-4. Molecular cancer. 2019, 18(1): 1-14.
All listed customized services & products are for research use only, not intended for pharmaceutical, diagnostic, therapeutic, or any in vivo human use.