Immune Checkpoint Targeted Small Molecule Drug Development
Anti-programmed cell death protein 1 (anti-PD-1) and anti-cytotoxic T-lymphocyte-associated protein 4 (anti-CTLA-4) monoclonal antibodies (mAbs) have revolutionized anticancer treatment. However, there are still many patients who do not respond or acquire resistance to these treatments. To overcome these limitations of therapeutic antibodies for immune checkpoints, Creative Biolabs offers immune checkpoint targeted small molecule drug development services to assist our customers with immune checkpoint research and drug development goals.
About Immune Checkpoints
Recently, immune checkpoint therapies have attracted amounts of attention from scientists who are devoted to cancer treatment. The checkpoint process's crucial are co-stimulatory and co-inhibitory molecules that show remarkable promise as therapeutic targets for cancer.
VISTA

VISTA is a new checkpoint that is structurally homologous to programmed cell death-Ligand 1 (PD-L1). VISTA enhances Treg maturation and inhibits T cell activation, contributing to an immunosuppressive tumor microenvironment (TME). The preclinical data has demonstrated that VISTA blockade expectedly decreases Tregs (and MDSCs) in the TME, activates dendritic cells, causes tumor regression, and improves survival in mouse models.

TIM-3

TIM-3 is an inhibitory immune receptor that binds primarily to galectin-9 to trigger T cell apoptosis. The interaction between TIM-3 and galectin-9 has been shown to negatively regulate T helper type 1 cell responses, contributing to the induction of peripheral tolerance. In some tumor models, anti-TIM-3 and anti-PD-1 antibodies injected together result in marked tumor regression and restored cytokine production.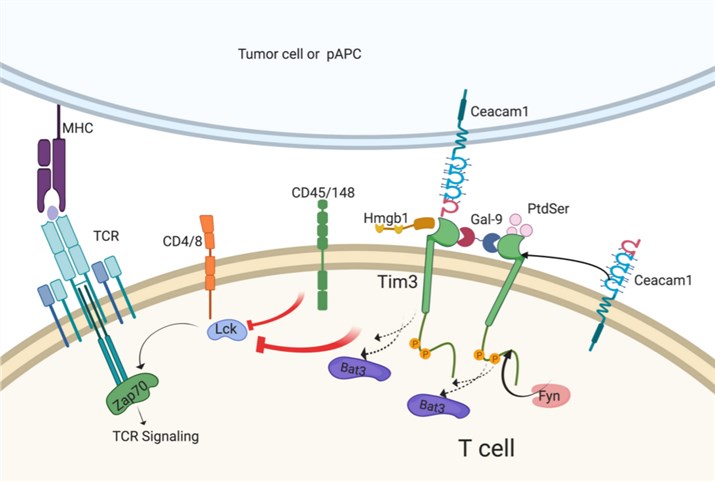 Fig.1 Model of Tim-3 signaling in T cells. (Acharya, 2020)
Immune Checkpoint Targeted Small Molecule Drug Development Services
The structure of small molecule drugs has good spatial dispersion. The chemical properties determine their good drug properties and pharmacokinetic properties. These characteristics make small molecule drugs show significant advantages in the immune checkpoint drug development process and other fields. With ample experience in drug development and immune checkpoint research, Creative Biolabs is devoted to tailoring the best-fit proposal to screen and identify the desired small molecule candidates with expected functionalities to meet your objectives.
As a leading company in the drug development markets, experts in Creative Biolabs possess enriched experience in immune checkpoint targeted small molecule development and could offer a comprehensive range of customized, high-quality services to meet all requirements of our global customers. Please do not hesitate to contact us with your particular needs.
Reference
Acharya, N.; et al. Tim-3 finds its place in the cancer immunotherapy landscape. Journal for ImmunoTherapy of Cancer. 2020, 8(1): e000911.
All listed customized services & products are for research use only, not intended for pharmaceutical, diagnostic, therapeutic, or any in vivo human use.