Immune Checkpoint Antibody Affinity Measurement
Various molecules regulate immune cells with suppressive functions at multiple checkpoints. Such checkpoints are critical to the development of self-tolerance to avoid attacking host cells. Creative Biolabs is known for our deeply rooted expertise, with a global team dedicated to bringing innovations to market. Our scientists are very proud of providing high-quality immune checkpoint antibody development solutions or products to our valued clients and removing the difficulties of your projects.
About Immune Checkpoints
Immune checkpoints represent negative regulators of the immune system that mediate self-tolerance, preventing autoimmunity and protecting tissues from immune attack. T lymphocyte-associated molecule-4 (CTLA-4), programmed cell death receptor-1 (PD-1), and programmed cell death ligand-1 (PD-L1) are the most broadly studied checkpoints in the inhibitory pathways. Many biological agents that target these molecules are now extensively used in the treatment of a variety of malignancies.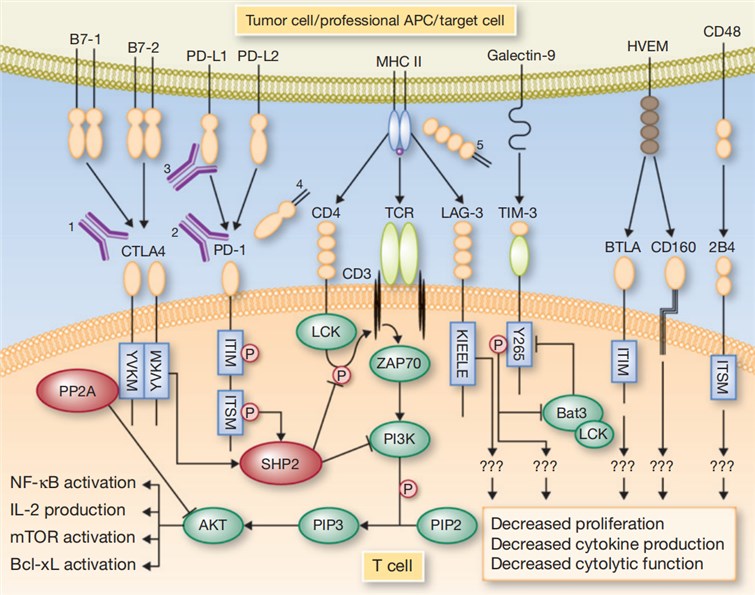 Fig.1 Immune checkpoint molecules and their signaling pathways. (Nirschl, 2013)
Immune Checkpoint in Cancer Therapy
Melanoma is a skin cancer associated with high mortality rates. It is highly radio- and chemotherapy-resistant and immunogenic. Neutralizing antibodies targeting the immune checkpoints CTLA-4 and PD-1 are being hailed as particularly successful. These antibodies have resulted in dramatic improvements in disease outcomes and are now clinically approved in many countries.
Immune Checkpoint Antibody Affinity Measurement Service
With Creative Biolabs, you will gain an experienced partner who is knowledgeable in the characterization of immune checkpoint antibody programs. We are passionate about offering comprehensive immune checkpoint antibody affinity measurement services with a series of methods and strategies, including but not limited to:
Equilibrium infiltration method
Competitive combination method
Noncompetitive ELISA
Surface plasmon resonance (SPR)
Biofilm interference method
Solid-phase radioimmunoassay
Radioimmunoassay
Binding antigen precipitation method
Features of our Service
Different antibody affinity measurement systems available
Fully validated methods
State-of-the-art equipment
High accuracy and sensitivity
Fast turnaround time
Competitive pricing
Each project presents its own unique set of challenges, and principal investigators and scientists in Creative Biolabs will work closely with you to ensure that your immune checkpoint antibodies are properly developed and validated to meet all specific project requirements. If you are interested in immune checkpoint antibody affinity measurement services and want to learn more about immune checkpoint antibody development, please feel free to contact us.
Reference
Nirschl, C. J.; Drake, C. G. Molecular pathways: coexpression of immune checkpoint molecules: signaling pathways and implications for cancer immunotherapy. Clinical Cancer Research An Official Journal of the American Association for Cancer Research. 2013, 19(18): 4917-4924.
All listed customized services & products are for research use only, not intended for pharmaceutical, diagnostic, therapeutic, or any in vivo human use.