Immune Checkpoint Antibody Large-scale Production
As the demand for monoclonal antibodies against immune checkpoints has been dramatically increasing, there is a rapid increase in the capacity of the large-scale industrial production of immune checkpoint antibodies. Creative Biolabs has been committed to antibody development and production for more than ten years; we have accumulated rich experience in large-scale antibody production. Our complete infrastructural facility and advanced production system strengthen service quality assurance based on a strong practice foundation.
Large Scale Production of Immune Checkpoint Antibody
Fed-batch Culture

In fed-batch culture, small volumes of key nutrients are fed to the culture during the fermentation process to maintain nutrient sufficiency, and the culture is harvested at the end of the batch cycle. Optimization of feeding strategies has been a major factor contributing to improvements in growth and productivity.

Perfusion Culture

In perfusion culture systems, fresh medium is added continuously to the reactor and the spent medium, containing the product, is continuously removed. In these systems, cells are retained in the reactor and a variety of retention devices have been described which may be internal or external to the reactor.
Large-scale Purification

Large-scale purification of monoclonal antibodies is based on chromatography. Protein A affinity purification is used in most cases combined with at least one and sometimes more polishing steps using ion exchange, hydrophobic interaction, and/or size exclusion chromatography. The steps are designed to remove contaminant proteins from cells or media to ppm levels and DNA to ppb levels.

Fig.1 Perfusion culture system and batch and fed-batch culture. (Birch, 2006)
Services at Creative Biolabs
As the pioneer in the field of immune checkpoint therapy, Creative Biolabs accumulated extensive experience from more than ten years' practice. We have invested a lot of financial resources in equipment and production systems. In addition, our experts specialized in antibody development and production will control each detail during the process of the project. Hundreds of successful precedents have witnessed the quality of our services. Creative Biolabs will be your best partner.
Advantages of Our Large-scale sdAb Production Services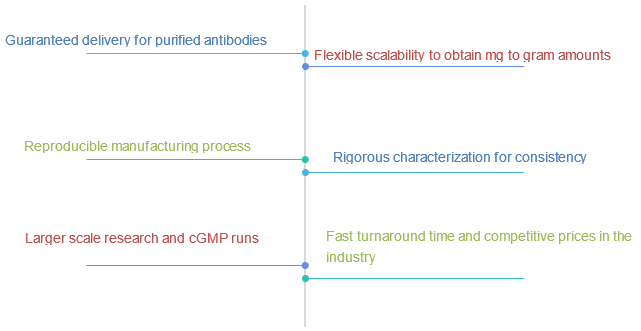 Creative Biolabs is confident in providing high-quality immune checkpoint antibody large-scale production to global clients with our advanced facilities and excellent experts. If you are interested in our services or have any questions, please do not hesitate to contact us for more information.
Reference
Birch, J. R.; Racher, A. J. Antibody production. Adv Drug Deliv Rev. 2006, 58(5-6): 671-85.
All listed customized services & products are for research use only, not intended for pharmaceutical, diagnostic, therapeutic, or any in vivo human use.