Immune Checkpoint Targeted Peptide Development
Regarding drug development, peptides have many advantages in various aspects compared with therapeutic antibodies and small molecules. Creative Biolabs has a mature peptide design system, advanced facilities, and excellent scientific experts. Based on these robust research foundations, we are capable of providing high-quality, and comprehensive immune checkpoint targeted peptide development services to our global clients.
Importance of Peptide Development for Immune Checkpoint
Advantages compared with therapeutic antibodies

Although antibody drugs have shown impressive clinical activity, they may still lead to some immune-related adverse effects. To address these limitations, peptide-based immune checkpoint blockers have been developed. Compared with the immune checkpoint antibody drugs, peptides as drug candidates have several advantages, such as lower manufacturing costs, higher stability, reduced immunogenicity, and better organ or tumor penetration.

Advantages compared with small molecules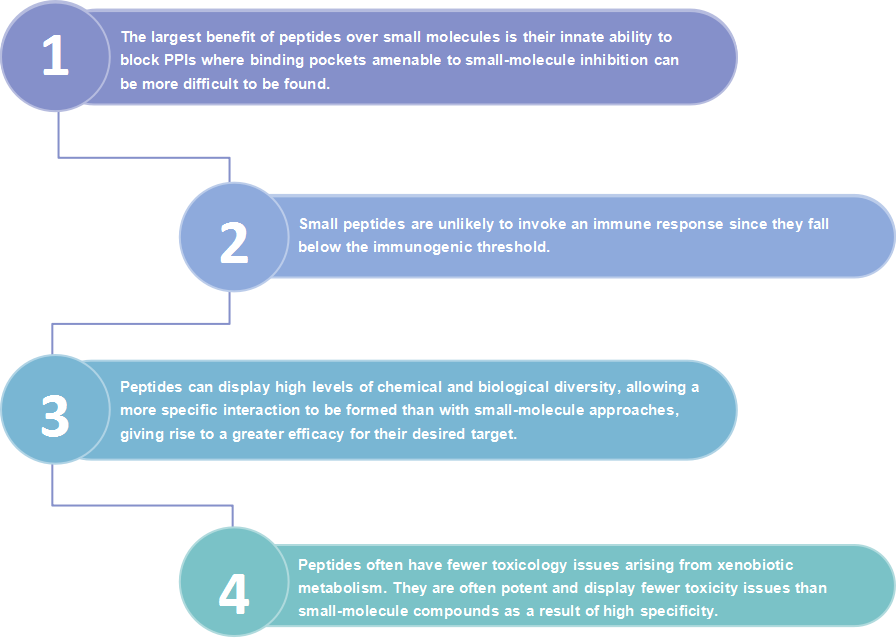 Immune Checkpoint Targeted Peptide Development at Creative Biolabs
Therapeutic peptides traditionally originate from naturally occurring peptides or are alternatively developed by rational design protocol. In fact, the discovery of natural active peptides is often a matter of serendipity. Thus, the rational design of immune checkpoint targeted peptides is a more common method for developing therapeutic peptides. For peptide design, Creative Biolabs offers common principles that are protein structure-based and protein interaction-based methods. Besides, considering the intrinsic flexibility and elusive affinity of peptides, our scientists also provide the computational methodology to meet more specific demands.

Peptide selection is also an essential link during immune checkpoint targeted peptide development. Commonly, peptide selection applies protein-fragment complementation assays (PCAs). PCAs are based on split protein systems, which then report on the formation of a target antagonist complex either by generating a measurable color change in a process known as bimolecular fluorescence complementation (BiFC) or by cell survival using a split essential enzyme. This system involves the transformation or transfection of cell lines using libraries to screen and select peptide antagonists that are capable of binding to their target and recombining the split enzyme under selective conditions. Common methods including phage display, ribosome display, mRNA display, CIS-display, and peptide aptamers & combinatorial chemical library approaches are available at Creative Biolabs.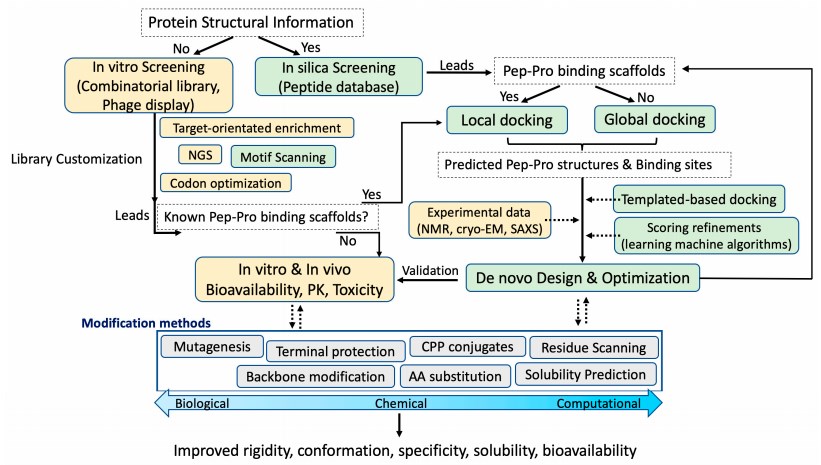 Fig.2 A modular view of the peptide drug development cycle. (Lee, 2019)
With a comprehensive technology platform and Ph.D. level expert team, Creative Biolabs is confident in the quality of our immune checkpoint targeted peptide development services. If you are interested in our services or have any questions, please feel free to contact us for more detailed information.
Reference
Lee, A. C.; et al. A comprehensive review on current advances in peptide drug development and design. Int J Mol Sci. 2019, 20(10).
All listed customized services & products are for research use only, not intended for pharmaceutical, diagnostic, therapeutic, or any in vivo human use.