Translational Biomarker Assays for Immune Checkpoint Inhibitor (ICI)
Creative Biolabs has long-term devoted to the discovery of translational biomarkers for immune checkpoint inhibitors (ICIs). Based on our advanced platform and extensive experience, we are always dedicated to assisting our clients with the most satisfactory services.
introduction to Translational Research
The essence of translational research is combining theory and practice and integrating basic biology and clinical trials. From the early drug discovery stage to the final clinical research, translational biomarkers are an effective way to assess the effects of compounds on organs or tissues. The precision of disease diagnosis and the customization requirements of treatment options prompt the discovery of novel biomarkers. As we know, immune checkpoint inhibitors (ICIs) present great potentials in tumor treatment. However, a large proportion of patients do not benefit because of the immune-related adverse effects (irAEs) and other undesirable effects. To better understand the mechanisms of tumor response and improve clinical efficacy, it is efficient to identify translational biomarkers for ICIs immunotherapies in advanced solid tumors.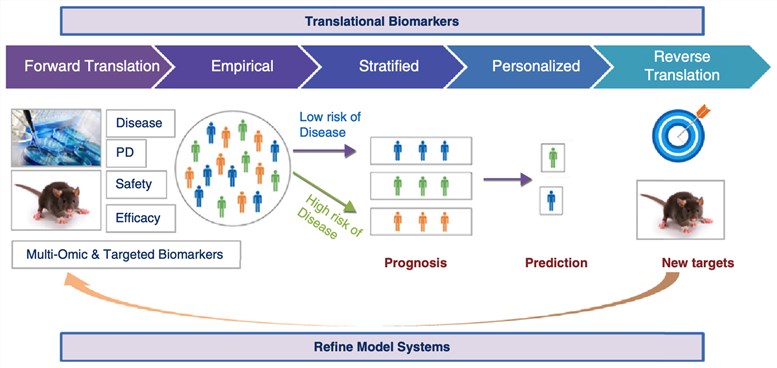 Fig.1 Translational biomarkers in discovery and drug development. (Subramanyam, 2016)
Translational Biomarker Assays for ICIs
Some studies have shown immunological changes in blood and tumor reflect tumor response to a certain extent and can be served as potential immune biomarkers. Translational biomarker research is critical for modern drug discovery and might be a possible way to overcome the limitations of ICI therapy. More importantly, translational immune biomarker research plays an important role in personalized tumor immunotherapy. Creative Biolabs provides a series of translational biomarker assays for immune checkpoint inhibitors, which include but not limited to IHC, Multicolor IHC, T cell receptor deep sequencing, Whole-exome sequencing (WES), ELISPOT assays (IFNγ and granzyme B), Flow cytometry (tetramer, polyfunctional analysis), Flow cytometry phenotype straining, RNA-Seq (NGS), qPCR assay, and Cell sieve microfiltration assay and QUASR technique.
Features of Our Services
The scientific group with extensive experience in translational biomarkers to tailor the most suitable solutions for your projects
Advanced platforms to ensure the best achievement for every single assay
Reliable lab report with timely update
Affordable price with the best quality
As a leading custom service provider in the field of immune checkpoint biomarker discovery, Creative Biolabs has won a good reputation among our worldwide customers for successfully accomplishing numerous challenging projects. If you are interested in our services, please do not hesitate to contact us for more details.
Reference
Subramanyam, M.; Goyal, J. Translational biomarkers: from discovery and development to clinical practice. Drug Discovery Today: Technologies. 2016, 21: 3-10.
All listed customized services & products are for research use only, not intended for pharmaceutical, diagnostic, therapeutic, or any in vivo human use.