Immune Checkpoint Antibody Binding Activity Test
The binding activity of antibodies is an important loop in antibody development. As a professional antibody development services provider, Creative Biolabs provides not only immune checkpoint antibody development services but also subsequent characterization services, including but not limited to immune checkpoint antibody binding activity tests. Our rich experience, advanced facilities, and state-of-the-art technology platforms are the powerful guarantee for the quality of our services.
Antibodies bind antigens via noncovalent bonds, and their interactions depend strongly on the distance between two interacting molecules. Binding between an antibody and antigen is a very complex process. Because of the dynamic and transient state of antibody-antigen interactions, measurements of the antibody-antigen interactions can be quite complicated and inconsistent. The results may vary depending on the sample treatment conditions and technique utilized.
Immune Checkpoint Antibody Binding Activity Test at Creative Biolabs
As an industry-leading antibody development service provider, Creative Biolabs has been focusing on antibody development for more than ten years. We have gradually optimized our technology platform and various facilities during this long period of exploration and growth. Based on these strong foundations, our team of Ph.D. level scientists keeps learning and making progress at high speed and thus provide our customers with high-quality and satisfying services.
Based on the intended use of the immune checkpoint antibody, our team works closely with clients to choose the most appropriate antibody binding activity tests according to client-specific requirements. A variety of platforms is available at Creative Biolabs, including but not limited to:
Radioimmunoassay (RIA) and enzyme-linked immunosorbent assay (ELISA)

RIA and ELISA are widely used to determine the affinity and specificity of antibodies to their target antigens. These assays typically involve the immobilization of the antigen or antibody onto a solid support, followed by the introduction to labeled analyte at varying concentrations and the measurement of the bound analyte to determine the binding constant (KD) of the antibody.
Surface plasmon resonance (SPR)

SPR offers real-time, label-free detection of binding interactions between the immobilized biomolecule and the free-flowing analyte. SPR measurements are based on refractive index changes and do not require the need of a label or the need for a multistep protocol. In addition, SPR measurements could be performed in real-time instead of using equilibrium endpoints. It provides useful thermodynamic and kinetic information, including binding enthalpies and entropies and the kinetic on and off rates.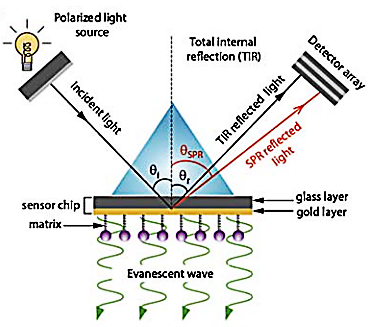 Fig.1 SPR system. (Yang, 2014)
Fluorescence-activated cell sorting (FACS)

FACS-based analysis of antigen-antibody binding is a convenient and reliable method. Because it does not need a purified form of the protein and the target antigen does not need to be modified or immobilized, it can be used at the stage of selection and screening of antibodies. Besides, screening methods that use FACS analysis will be able to differentiate positive clones based on affinity. Unlike other selection methods that collect all positive binders for further rounds of amplification, high and low binders can be separately sorted for further amplification.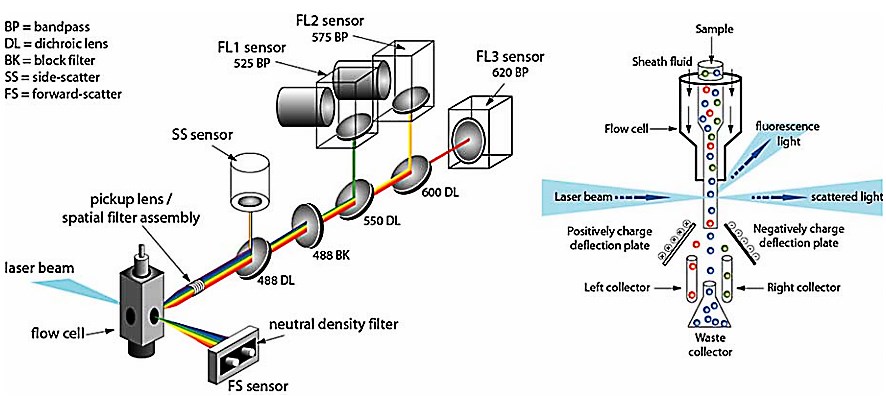 Fig.2 FACS system. (Yang, 2014)
Atomic force microscopy (AFM)

AFM can be effectively used to study interactions between molecules because it has a relatively large measurement range. It is simple to operate, and has a unique ability to simultaneously image the sample and measure force interactions. Antibody-antigen binding interactions are complex and dynamic processes, and proteins may have many variable conformations complicating or preventing bulk measurements. AFM can be used to measure single-molecule antibody-antigen interactions. In addition, AFM can produce high-resolution images of sample topography in aqueous/liquid environments using minimal sample preparation and without the need to stain the sample.
Creative Biolabs is confident in offering immune checkpoint antibody binding activity tests to global clients with advanced facilities and excellent experts. If you are interested in our services or have any questions, please do not hesitate to contact us for more detailed information.
Reference
Yang, G.; et al. Probing antibody-antigen interactions. Microbiol Spectr. 2014, 2(1): AID-0010-2013.
All listed customized services & products are for research use only, not intended for pharmaceutical, diagnostic, therapeutic, or any in vivo human use.