Immune Checkpoint Therapy in Infectious Diseases
The up-regulation of immune checkpoint protein, such as cytotoxic T lymphocyte antigen 4 (CTLA-4) and programmed cell death protein 1 (PD-1) on immune cells, occurs during both chronic persistent viral infections (e.g., hepatitis B virus (HBV)) and acute infections (e.g., malaria). These pathways are extremely important for preventing immune-driven pathology but can also limit immune-mediated clearance of the infection. The recent success of immune checkpoint blockade in cancer treatment reveals that targeting these pathways could also be effective for preventing and treating a range of infectious diseases. Considering that drug resistance against many infections is rising and that control of some types of viral infection diseases requires life-long treatment, new strategies for treatment or potentially cure infectious diseases are now being considered.
Immune Checkpoint Therapy in Infectious Diseases
Studies of the interplay between immune activation and suppression have shown an important role for immune checkpoint proteins in the pathogenesis of infectious diseases. A number of studies have suggested that immune checkpoint blockade may also be highly relevant for treating different infectious diseases, including malaria, human immunodeficiency virus (HIV) infection, hepatitis B virus (HBV) infection, and Tuberculosis (TB). However, immune checkpoint blockade may also cause immune-related adverse events since CTLA-4, PD-1, LAG-3, and TIM-3 are also involved in the regulation of peripheral tolerance to prevent autoimmunity.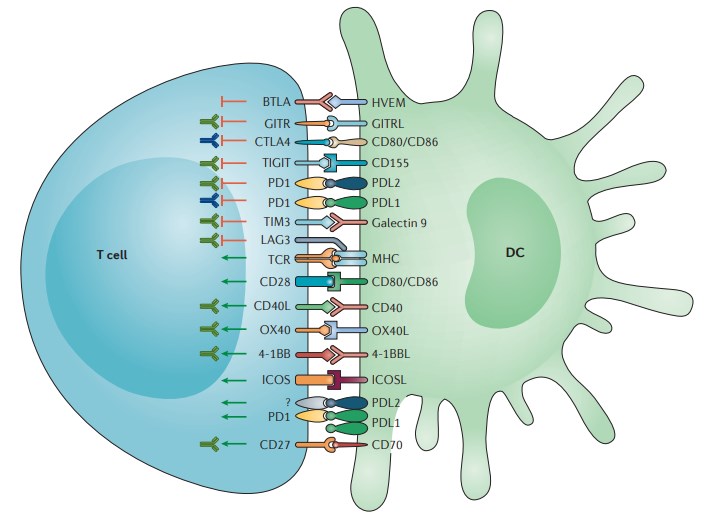 Fig.1 Interactions with antigen-presenting cells that regulate T cell responses. (Wykes, 2018)
Malarial pathogenesis was recently shown to be dependent on the PD-1 pathway. Targeting this pathway with antibodies or programmed cell death ligand 2 (PD-L2) protein has shown protection and the potential of immunotherapy as a treatment for malaria. Besides, CTLA-4, OX40, and TIM-3 are significantly increased during Malaria infection.
HIV mainly infects T-cells, and HIV infection destroys the host immune system and makes the infected individual increasingly vulnerable to a range of infections or cancers. Recent research has shown that immune checkpoints extensively participate in HIV infection via their role in inhibiting T-cell function. The two main ways in which they act are by causing T-cell exhaustion and helping to establish HIV-latency reservoirs. Checkpoints involved in HIV infection include PD-1, CTLA-4, LAG-3, TIM-3, and TIGHT.
During chronic hepatitis virus infection, immune checkpoints control T-cell cytokine production through various pathways. The expression levels of PD-1, TIM-3, TIGIT, LAG-3, and CTLA-4 have been observed to increase peripheral HBV-specific CD8+ T-cells. This upregulation is related to T-cell exhaustion. Similarly, in chronic HCV infection, the expression of PD-1, TIM-3, TIGIT, and CTLA-4 is also upregulated on CD8+ T-cells and CD4+ T-cells. Accumulating evidence showed that immune checkpoint blockades targeting PD-1, LAG-3, CTLA-4, or TIM-3 improve the production of Th1 cytokines during hepatitis virus infection.
Studies revealed that functionally exhausted TIM-3 T cells were shown to accumulate during chronic TB infection, and TIM-3 blockade restored T cell functions and improved control of the bacterial load in chronically infected susceptible mice. Other immune checkpoints involved in TB include PD-1.
Table.1 Summary of pre-clinical or ex vivo studies in infectious diseases (Wykes, 2018)
Infection
Cell type affected
Inhibitory Receptor
Target Species
Outcomes
HIV
CD4+, CD8+ T cells
PD-1, CTLA-4 TIGIT, LAG-3
Humans/Mice

Increased HIV-specific CD8+ T-cells (2 of 6 participants)
Current clinical trials in malignancy underway

HBV
CD4+, CD8+ T cells
PD-1, CTLA-4, 2B4, TIM-3
Humans (ex vivo)/mice/woodchuck

PD-1, CTLA-4 & TIM-3 expressed on CD4+ & CD8+ T cells from patients with chronic HBV infection.
PD-1, CTLA-4 & TIM-3 blockade enhanced expansion and function of HBV-specific CD8 T cells in vitro.

HCV
CD4+, CD8+ T cells
PD-1, PD-L1
Human

PD-1 is up-regulated on total and HCV-specific CD8+ CTLs in the peripheral blood & livers of patients with chronic infection
PD-L1 blockade restores functional competence of HCV-specific CTLs in vitro.

TB
CD4+, CD8+ T cells
TIM-3
Mice

TIM-3 blockade restores T cell function and improves bacterial control, particularly in chronically infected susceptible mice

Malaria
CD4+, CD8+ T cells, B cells
PD-1, PD-L1, CTLA-4, LAG-3, TIM-3
Mice

Accelerated parasite clearance.
Survival from lethal disease
Reduced incidence of cerebral malaria
Creative Biolabs is a professional biotech company engaged in immune checkpoint therapy research. Armed with rich experience in infectious disease studies, Creative Biolabs provides a comprehensive set of immune checkpoint research services to support your academic research. Services include but are not limited to Immune Checkpoint Antibody Development as well as Immune Checkpoint Targeted Small Molecule Drug Development, please feel free to contact us for more information.
Reference
Wykes, M. N.; Lewin, S. R. Immune checkpoint blockade in infectious diseases. Nature Reviews Immunology. 2018, 18(2): 91.
All listed customized services & products are for research use only, not intended for pharmaceutical, diagnostic, therapeutic, or any in vivo human use.